Ivanka Trump's brand has a history of coping sandal designs from other brands. She pulled one design that designer Derek Lam sent a cease-and-desist letter for, and settled another lawsuit with the clothing label Mystique. While it would be reasonable to think that she learned her lesson by now, her brand is in trouble over sandals—again.
please like to our page for more updates 
Edgardo Osorio's label, Aquazzura, may be young, but it is already one of Hollywood's favorite brands. Jennifer Lawrence, Emma Watson, Kendall Jenner, and Rihanna have all been seen wearing his shoes and boots. One of his most favorite designs is a sandal called "Wild Thing." It's so popular, that several other labels have tried to copy it, such as Mollini, Missguided, and  Jessica Buurman. But those are smaller brands. Osario is filing lawsuits over the bigger ones: Marc Fisher, Steve Madden, and, of course, Ivanka Trump.
How similar is Ivanka's shoe, "Hettie," to "Wild Thing?"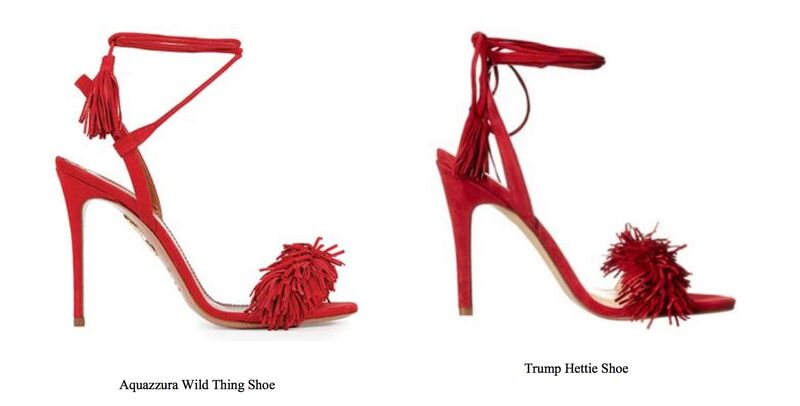 Trump's lawyer, Darren Saunders, claims that "Trump was not aware of the Aquazzura style 'Wild Thing' shoe at the time she signed off on the season line that contained the Ivanka Trump style 'Hettie' shoe." He also believes that because Trump is a "high ranking government official," her father, President Trump's, assistant, she shouldn't have to submit a deposition.
U.S. District Judge Katherine Forrest disagrees. "She is alleged to have personal involvement in the events at issue in this lawsuit," the judge ruled. "She cannot avoid a deposition in this matter."
Ossario is taking the copyright breach as a compliment. "The funny thing is that, whether it's her or anyone else, when it's good, everyone wants to copy it and make money off it," he said.
And when the Trumps copy something, it's usually just an uglier version of the original. "Hettie," compared to "Wild Thing," is really the entire Trump family represented by a shoe.